A while back, our house backed up into these 2 old houses that an excavator had knocked down. There was all this uneven ground with debris and trash left over.
I did some digging and found out that the Houston Parks Department owned it, and that they had this goal of greenspaces in the area. So some parents and I rallied around the idea of having our own park. We met with the Houston Parks Department and Houston Parks Board, let them know our interest and had a few events in the community to raise awareness.
I was surprised by how many people showed up. It takes 1 or 2 people to take initiative, but a lot of people will volunteer and support you once you've got something started. And Colleen, Alex, Grant, Ellie, and I didn't reinvent the wheel. We talked to other organizers from Friends of River Oaks Park and Woodland Park. Houston Parks Board was a partner to us in fundraising, and the Houston Parks Department funded us through a National Parks and Recreation Association Disney Grant.
The project went more quickly than we expected—2 years from start to finish. At the final ceremony, we planted 20 trees. By the time we were done, we had a picnic table, a barbecue pit, a bike rack fence, and even a chimney swift tower for birds that were used to nesting in the chimneys of old homes that have since been knocked down by new development.
It was a very special experience for us because, without that effort, I don't think we would have gotten to know our neighbors. It was fortunate that we built that community together because, when Harvey happened, even though we didn't flood, we couldn't get out of the neighborhood. I was about to have a baby. My neighbors said they would drive me out of there if I needed. And later, when my son was diagnosed with a heart defect, a lot of the neighbors we'd been working with stepped in for our family and cooked meals. It's a blessing that Wagner Park is that kind of community.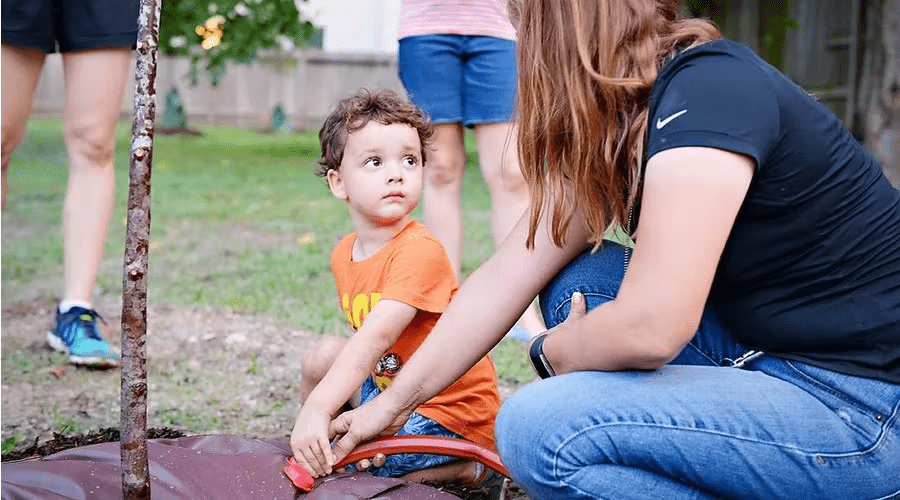 Thank you to Sarah for sharing her story!