PUBLISHED: October 29, 2021 By Marissa Llosa, HPB Conservation Manager
The parks and trails along our bayous are places for us to connect and explore, but they're also essential ecosystems with plant and animal species that call Houston home or migrate through the region. Bayous Greenways seeks to protect the health of our habitats while improving the beauty of our bayous.
Our Conservation Program focuses on three primary habitats of interest: prairies, wetlands, and forests. Prairies feature native grasses with wildflowers, and few to almost no shrubs and trees.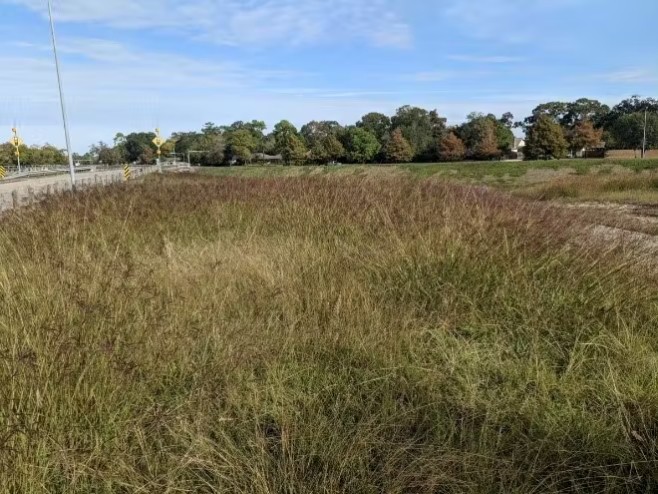 Watonga Parkway before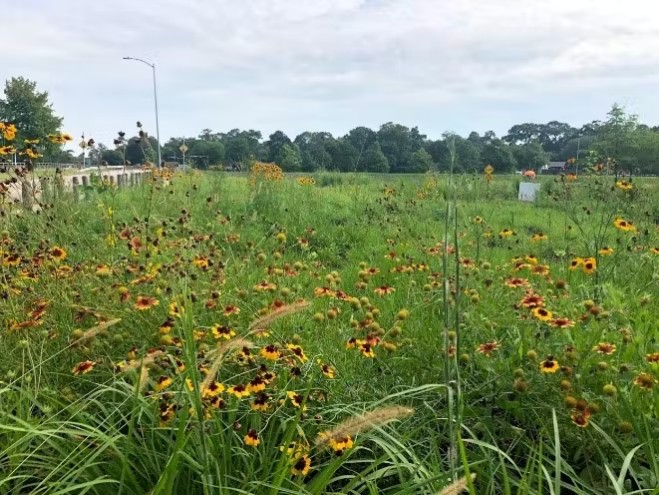 Watonga Parkway after
LEARN MORE ABOUT HOW AND WHY PRAIRIES ARE A VITAL PART OF HOUSTON'S ECOSYSTEM, ESPECIALLY FOR POLLINATORS, BIRDS, AND BATS, BELOW.
1. WHAT IS A PRAIRIE?
A prairie is a type of grassland community dominated by various native grasses, but also contains a large array of forbs (flowering plants) and typically lack any trees or woody plants.
2. WHAT ARE THE DISTINGUISHING FACTORS OF PRAIRIES?
Our coastal native prairies are very similar to the prairies of the Midwest. However, ours differ in their adaption to the wetter climate indicative of our region. During Houston's long hot summers, our prairie grasses persist and thrive because of their deep roots, and when the weather changes to the wet cooler months, our same prairies survive and bloom. Our prairies will typically have more grasses tolerant of wet conditions, including Switchgrass and Gammagrass.
3. WHAT ARE THE BENEFITS OF PRAIRIES?
Our coastal prairies have and continue to diminish. We are left with less than 1% of this critical habitat in our region. These prairies play an important role of providing food and nesting resources for grassland birds—which are also significantly declining in north America. Prairies provide other ecosystem services like erosion control and flood abatement when large tracts of lands are conserved and maintained as prairie. Prairies also support our pollinating insects by providing food resources for these "essential workers" of the landscape. Also, maintaining greenspaces as prairies in urban areas can offset and mitigate against the effects of heat.
4. WHAT WILDLIFE (PLANTS, ANIMALS, ETC.) CAN YOU FIND IN PRAIRIES?
There are many native birds which depend on prairies, but likewise, many pollinating insects depend on the flowers found in prairies.
5. WHERE CAN YOU FIND PRAIRIES IN HOUSTON? ALONG WHAT BAYOUS?
Prairies can be enjoyed across the entire Bayou Greenways system. Click here for an interactive map to help plan your visit.
Watonga Bat Prairie, along White Oak Bayou Greenway at Watonga Blvd.
Ella Prairie and Savannah, along Greens Bayou Greenway at Ella Blvd.
Northborough Prairie, along Greens Bayou Greenway at Northborough St.
Thomas Bell Foster Prairie, along Greens Bayou Greenway at Thomas Bell Foster Park
Simsbrook Prairie, along Sims Bayou Greenway near Stancliff St.
Martin Luther King Trailhead Prairie, along Sims Bayou Greenway at Martin Luther King Blvd.
Forest Hill Prairie and Native Landscape, along Brays Bayou Greenway at Forest Hill Dr.
South Post Oak Bridge Prairie, Swale and Native Landscape, along Sims Bayou Greenway at S. Post Oak
Old Galveston Road Prairie, along Sims Bayou Greenway at Old Galveston Rd.
6. HOW CAN YOU SPOT A PRAIRIE?
You can find prairies marked by Houston Parks Board signage explaining the benefits and need for prairies. The signage also provides guidance to the unique plant community of a prairie.
7. WHAT TYPE OF WORK IS THE CONSERVATION TEAM DOING RIGHT NOW IN PRAIRIES? WHY?
Restoring prairie habitat is essential for the health of wildlife and our bayou systems. Removing invasive grasses and replacing them with a diverse selection of native plants benefits pollinators and insects that make up a healthy food chain.
One recent goal the Houston Parks Board conservation team had was to add five prairie restoration projects by the fall of 2021. We are happy to report that these five projects were completed or will be complete ahead of schedule: Thomas Bell Foster Prairie, Simsbrook Prairie, Forest Hill Prairie, South Post Oak Bridge Prairie, and Old Galveston Road Prairie.
8. HOW DO WE (OR HOW CAN YOU AS AN INDIVIDUAL) CARE FOR PRAIRIES?
Don't mow a prairie! A common misconception about prairies is they require maintenance like turf. However, regular or ill-timed mowing can kill or stunt native grasses which further can also allow for the invasion of exotic noxious grasses. Cutting your prairie also means you may not allow for the appropriate re-seeding of key grass and forbs species, because the plants are cut down before they have a chance to flower.
9. WHAT MAKES FALL THE BEST TIME FOR PRAIRIE WORK/RESTORATION?
In the fall, our temperatures are significantly cooler than our summer temps, and that helps newly transplanted grasses and forbs in a prairie restoration recover from transplant shock and rebuild their root systems in their new "home". This is also a great time for putting down seed in a prairie restoration because we receive adequate rains in the winter with cooler temps, and as the land slowly warms up into spring, the seeds can germinate and establish with enough time before the heat and sun of the summer arrive. The same benefits apply to transplants or plugs in a restoration.
10. IS THERE ANYTHING ELSE TO HIGHLIGHT RELATED TO PRAIRIES? ANYTHING SPECIFIC TO HOUSTON'S BAYOUS?
Prairies change each season, and often may look worn and ragged during the late summer and the winter. However, each season means new plant species may be emerging. For instance, during the late summer, our grasses like Little Bluestem and Brownseed Paspalum are growing their leaves and starting to "invest" in the production of inflorescence.