I never went to parks before. I didn't even think about going to them. But I had been in a car accident and undergone surgery. I couldn't walk. So I joined the Duncan YMCA to get some movement in my legs.
The leader of the running club invited me to join and said, "Just walk with us." I went from walking to running and now I'm doing marathons. Our group started by running around the neighborhood, then we branched out to parks. It was a breath of fresh air.
There's this one place over at White Oak Bayou on the top of the bridge, where downtown is behind you. When we go out there early in the morning, with the color of the sky and the way the buildings look, it's really beautiful. When I run on Sundays, my 13-year-old son follows us on his bike. Running isn't cool to him because mom does it, you know? But he loves his bike and the trails. He was having challenges with his weight and now he's healthier and happier. We have a great time out there. We train all over—White Oak Bayou, Memorial Park, Buffalo Bayou, and others. Terry Hershey. That one is home to me.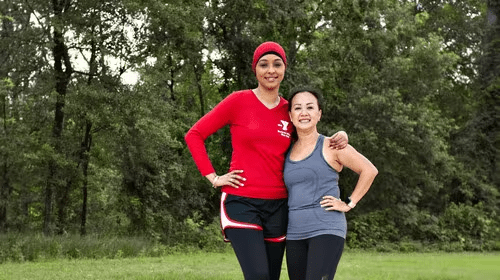 What attracts me to parks is that you build friendships with people. You see the same faces all the time. Our youngest runner, Ian, is about 7 or 8 years old. He does the kids' 1 mile and his parents run the half and the full. Our eldest runner is 65. I love how we're all so different, but we come together here to run. I'm Muslim so I run with my scarf on. There are people from Vietnam, Mexico, America—it's beautiful.
If you want to run, you can run. If you want to walk, you can walk. It's not like any other running club. It's really like a family. We get together all the time.
We have a GroupMe and someone will mention they're going out and someone else will respond. We're never alone. I don't know if it's because we're all different ages and from different parts of the world, but we encourage each other and that's something you don't often find these days. After Chevron, our running leader came up with our current challenge: to partner up with someone and hit 2019 miles collectively. And we're doing that. We're showing up for each other.
Thank you to Aisha for sharing her story!