Riding Without Headphones
Riding Without Headphones



I started biking when I was asked to chair the Park to Port Bike Ride for Hermann Park Conservancy, which goes along Brays Bayou with 10 miles, each way. That's when I first thought, "Look at this. How can I take advantage of all these beautiful trails?"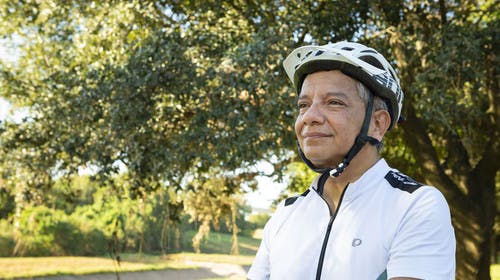 When Houston Parks Board completed White Oak Trail, I was able to start riding my bike downtown to work. If it wasn't for the extra miles of trails, I would not be able to do it. When I tell people I ride to work, they say, "I wouldn't do it because of the cars." But the bike paths were designed for us to be able to bike away from cars. They're all over and keep us safe from traffic.
I'm privileged. I'm lucky to work at Bank of America, which has workout facility that's always open, with a bicycle entrance and storage room. The reality is that many people have been walking or biking to work without these paths for years and years. These new trails create a safer, healthier lifestyle for everyone.
I ride without headphones or earbuds because I want to enjoy nature. You can't really enjoy it in a car, even if you have a convertible. You don't hear nature the way you do when you're bicycling or running. It's about noticing the little things—people in the neighborhood enjoying the outdoors throughout the year—exercising, walking with their children, spending time at the softball fields.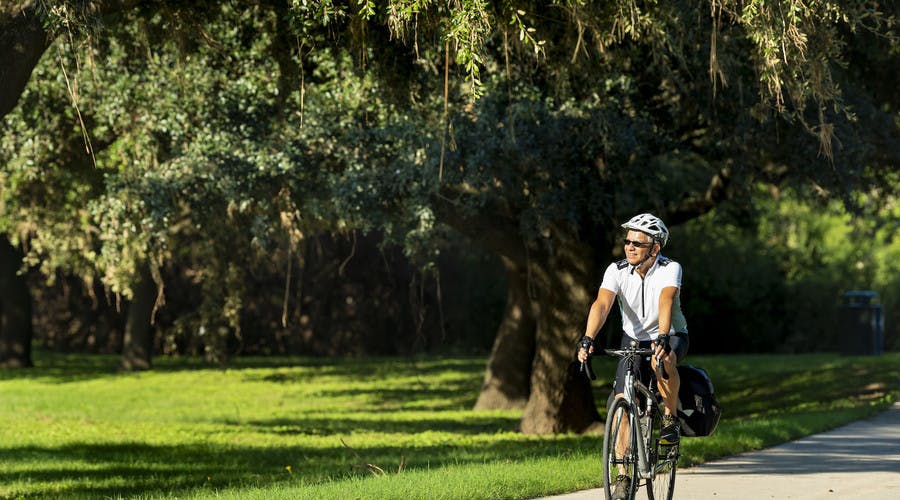 It's something that we don't see because we live in a car culture, so it gives you a different perspective of the real city we live in. Unless you're riding or walking, you don't see these spaces everywhere—from the Centennial Gardens at Hermann Park to Mason Park along Brays Bayou—an oasis along the bayou with a nice bridge you can walk or ride across. 
And on White Oak Bayou, north of 43rd, there is some greenspace you won't see from a car—ever. It's hard to imagine that you're in the 4th largest city with 6 million people because there's so much greenspace out here. It's beautiful. It takes you away from your daily worries.
Thank you to David for sharing his story!
About #ParksByYou Stories
This story is a part of a new initiative by Houston Parks Board to share stories about Houstonians' most meaningful park moments across our city. Because parks are a place for all of us. Parks are where we celebrate the things that matter. This is just the start—we will be showcasing the experiences of as many people in as many neighborhoods through as many winding pathways as possible. 
This effort is in celebration of Bayou Greenways which is bringing together neighborhoods like never before–connecting 150 miles of trails and 3,000 acres of greenspace. Houston Parks Board is proud to share the experiences of individuals in neighborhoods across our city. These are #ParksByYou. 
Share Your Own #ParksByYou Story