About 2 years ago, our family went through a divorce. My children were 2 and 4 at the time, and our lives were uprooted. We were like travelers, waiting for our old home to get sold. We had to leave the neighborhood where we were settled. So we went to the park as an escape.
It was where we could have our own little place with no rules, no guidelines. It was therapeutic for us. We had found a place where we could feel grounded and free at the same time. My kids, in a sense, found home.
We explored as many new parks as we could and discovered so many we loved. Now the kids decide each week whether they want to try a new park or visit one of their favorites, like "Slide Park," "Hill Park," "Castle Park," or "Sand Park." Those are their names for them. Slide Park (Josey Lake Park) has a turf grass hill where they like to slide down on cardboard boxes. Hill Park (Hockley Recreational Complex) is where they like to skateboard. My boys love watching the trains and climbing trees there. "Castle Park" is Donovan Park in The Heights and "Sand Park" is the Nature Play Area in Buffalo Bayou Park.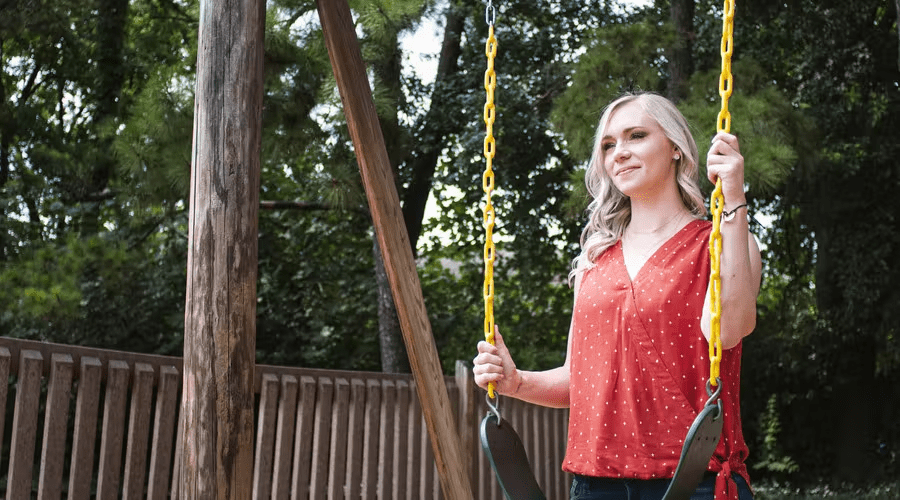 With my fiancé, we have 4 kids ranging from 3 to 11. The new parks have really evolved to meet what kids of all ages need. They're made for the Houston heat—with splash pads and shaded play areas. And there are these new climbing structures that are made to look like trees in nature. They're where my kids play "family." They each have places on the trees that are theirs—each a different room of the "house."
The place is wide open for them to explore and create their own reality. It's their home.
We forget that kids take in everything we share with them. My kids are so curious about plants, animals, and flowers now. It's amazing to see that cultivation in their minds, how they soak it all up. Now my daughter has a favorite flower—sunflowers. Once you start something for a child, they're automatically interested and you don't have to teach them to be curious. Their sense of wonder guides them.
Thank you to Rachel for sharing her story!