"Conservation is a state of harmony between men and land." – Aldo Leopold
Our mission is to preserve, create and enhance the region's habitats by incorporating conservation best practices and stewardship. Major initiatives include:
Relevant Habitat Conservation: By defining our habitats or ecosystems of interests, including prairie, forests and wetlands, HPB can effectively assess our Greenway resources for targeted habitats and develop respective long-term maintenance and/or restoration goals. Our conservation projects, like tree plantings, prairie rebuilds or wetland creations, will be directly derived from our assessment, and in turn, allow HPB to engage volunteers in appropriate and relevant projects. 
Engaging Stewardship: Employing our overall mission of "Parks for everyone", the Conservation program will provide an alternative means to directly connect everyone to parks—by planting native trees, growing prairie seedlings, caring for nursery plants, or invasive species control. Their committed stewardship of the Greenway resources ties their efforts to a deepened sense of ownership and willingness to protect and preserve.
Effective Communication: As with any effort worth undertaking, the story or messaging communicated about said effort is equally critical. The Conservation program accomplishes large goals of preserving, restoring, and maintaining important natural resources. Sharing the stories of our successes and achievements—whether building bat boxes or rebuilding prairies—helps everyone to know our parks and our greenways.  
Dynamic Partnerships: The Conservation program, like HPB itself, believes in the ongoing collaboration with partners; and this collaboration as the means to achieve larger regional goals—like the exchange of practical measures for prairie ecosystem maintenance. 
Interested in staying involved with what's going on?
---
BAT HOUSE EXPERIMENT
Why do we need bats?
Bats comprise the second largest order (20%) of mammals worldwide, and their feeding habits, as major insectivores, helps to control pest populations wherever a healthy bat population exists. This ecosystem service represents one benefit of many which endeared bats and their colonies to their human neighbors.
More recently, dramatic bat emergencies (when bats leave their roosts en masse) have become a popular evening pastime in cities or locations near large bat colonies. The Watonga Boulevard Bridge population is one such location and is located on our White Oak Bayou Greenway.
HPB is fortunate to have the support of local experts, including having a board member who is respected within the Bat community, who can provide the necessary guidance with regards to our Greenway bats.
Last summer, all the existing bat boxes were visited and examined to determine their use and placement. It was determined that the boxes, in general, did not meet the guidelines of Bat Conservation International which require larger boxes set on higher extensions (greater than 12 feet high).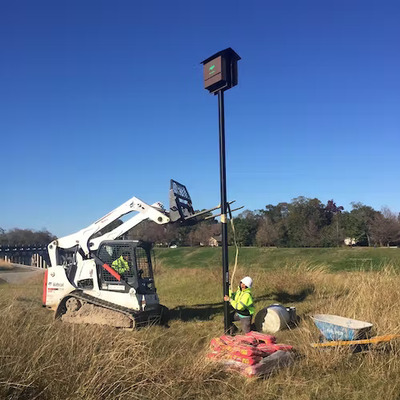 That discovery kicked off our effort to replace inadequate existing boxes with better, more inviting homes. Placing darkly-painted back to back boxes on 20 foot extensions with roof coverings offers potential refuge for younger male bats from the larger colony. At this point, we do not know if the houses will be occupied, and thus the experiment continues with regular monitoring.
Why would we encourage this shift?
Providing bat houses, which mimic the space between bark and a tree trunk—dark, warm and narrow—can be essential in areas where trees are sparse or unavailable; or as an alternative when flood events occur and force the vacating of bridge roosts. Building and placing these new homes on the Greenways is our attempt to sustain our local bat populations.
---
THE PRAIRIE, FORMERLY KNOWN AS MEADOW
Our original planning for the greening of the Greenways included the establishment of meadow areas adjacent to the trail system and to do so anywhere we could. The intention was to reduce maintenance and pollution outputs, create habitat and greener greenspaces and diversify the "look" of the trails. It is holding onto those same intentions that we are rebooting our meadow program into newly rebuilt Prairies on the Greenways.
Any reconstruction or restoration must start at the very beginning and typically this includes a detailed survey or assessment of the project site current conditions. For our new prairies, this assessment entails the on-going evaluation by our Conservation Tech across multiple seasons and across all our Bayou Greenways covering 150 linear miles weaving through our City.
Unfortunately our preliminary data suggests that our original seeding efforts have not created the desired effect of a well-established native prairie; rather, these areas have been encroached by invasive exotic plants. For some areas, it may be a simple targeted treatment and replacement with key mature native plants; while other areas may require an complete rebuild: treatment, removal of treated materials, new soil placement and planting with seed and mature plants.
And so we move forward with understanding what we have and plan appropriately for future prairies. Our first foray into this new procedure can be enjoyed along Greens Bayou Greenway at the trailhead at Fall Lake and Greens Parkway and White Oak Greenway at Watonga Blvd.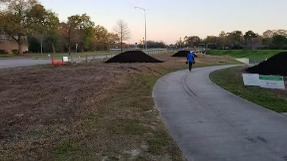 Before picture of Watonga site.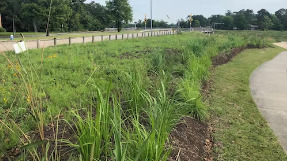 After picture of Watonga site. Within a few months after installing new prairie plants, the seeds of native grasses and forbs have sprouted.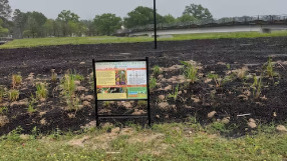 After a recent volunteer workday installing new native plants, educational signage is installed.
---
THE GREEN TEAM
Our conservation effort can not be complete without the input of our surrounding community. Engaging our citizens in the direct care of the Greenways and their associated habitats fosters a strong sense of stewardship.
To further this goal, HPB has created the "Green Team" a volunteer group which meet one a month (for now!) to complete conservation tasks at various locations around the Bayou Greenways. We could be at Thomas Bell Foster Park on Lower Greens Bayou Greenway planting wetland plants, or at Coolgreen Corridor removing invasive shrub vegetation or at Sims Bayou Greenway rescuing our native forbs and grasses in preparation for a prairie rebuild. Our workdays are a chance for these conservation-minded volunteers to come together to sweat over the necessary work, share time and laughter, and enjoy a meal together.
And HPB has plans to grow into the future! We hope to establish our own small-scale nursery to grow some of our common restoration plants, but also have the capacity to hold classes and lectures for our volunteers.
Houston Parks Board currently holds the Green Team workdays on the second Wednesday of the month from 9am to 12noon. We ask volunteers to bring a lunch for the downtime after the workday. We provide tools, supplies and drinking water.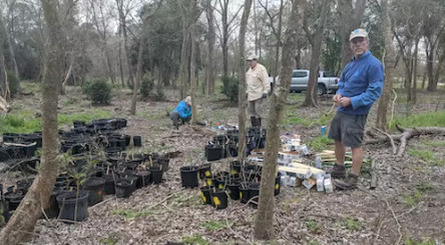 Green Team members marking and preparing tree seedlings for Coolgreen Corridor as part of ParksByYou Day.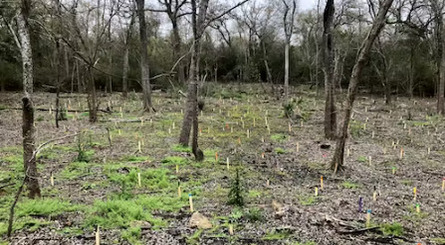 After marking and preparing tree seedlings for Coolgreen Corridor as part of #ParksByYou Day.
If you're interested in getting involved with any of our conservation efforts or have questions, reach out to volunteer@houstonparksboard.org