START AT DONOVAN PARK FOR THE KIDDOS!
My family and I love starting at Donovan Park in the Heights. There's a great children's playground that we enjoy for a bit—just enough that the kids don't tire out before our ride ahead.
SIGHT-SEE ON THE HEIGHTS HIKE AND BIKE TRAIL
We'll head southeast after, along the Heights Hike and Bike Trail.
Native Plant Pit Stop: If you're looking for a slight change of scenery—including wildflowers and pollinator weeds—continue east for about half a mile, and you'll hit Stude Park!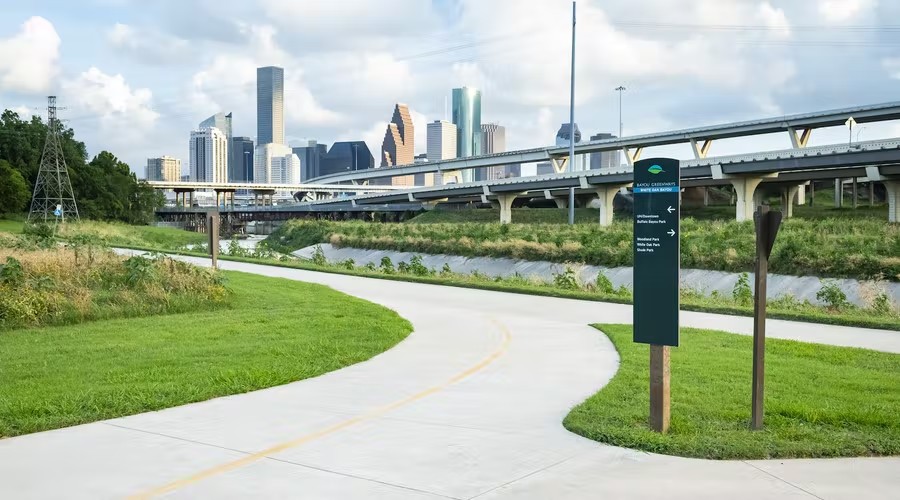 KEEP RIDING ON THE WHITE OAK BAYOU TRAIL!
Cross onto the White Oak Bayou Trail and keep right. If you go over onto Studemont Street, you've gone too far. Continuing west, there's a Starbucks on your left as you ride past, at 217 Heights Boulevard, if you need a quick caffeine kick or cold drink.
ENJOY THE VIEW ON YOUR RIDE HOME
Continue going straight towards the intersection of White Oak Bayou Trail and Heights Hike and Bike Trail. You can stop for a moment at that intersection and take in an incredible Downtown view.
Once you're ready to pick back up, cross over the bayou, back onto the Heights Hike and Bike Trail, going east toward downtown—that'll get you back to Donovan Park.
Thank you to Andy N. for inspiring us with his trip!