START AT MARKET SQUARE PARK
Looking for a quick 1-hour cycle? Here's a super easy route to get you ready for your 8-mile journey downtown and around Buffalo Bayou. Start off at the Historic Market Square Park on Milam Street—you might run into a vendor market, lawn movie, or fellow cyclists! If you're feeling the Houston spirit, take a quick .1 mile ride to the Houston Is Inspired Mural off of Travis Street and Preston Street.
SHOW YOUR SPIRIT AT THE FAMOUS HOUSTON IS INSPIRED MURAL
After you're done snapping that awesome Instagram photo, head northwest on Travis Street toward University of Houston Downtown. From there, you'll loop around the Buffalo Bayou Greenway* and cycle through Johnny Goyen Park.
ENJOY THE DOWNTOWN SCENERY
Continue on the trail and be sure to keep an eye out on the Downtown Aquarium-Houston on your right! You can't miss that huge ferris wheel. Seriously. It's huge. 3.5 miles down, you'll hit the Shepherd Pedestrian Bridge off of Shepherd Drive and Allen Parkway.
JUST KEEP CYCLING…
Following the trail on Shepherd Drive, you'll follow signs for Jackson Hill Bridge. From there, you'll go left onto Buffalo Bayou* trail, and continue straight for 1 mile. Make a left on Preston Street, and you'll be back at Market Square Park in no time.
*Buffalo Bayou Partnership (BBP) is the non-profit organization revitalizing and transforming Buffalo Bayou. BBP oversees Buffalo Bayou improvements from Shepherd Drive east to the Turning Basin.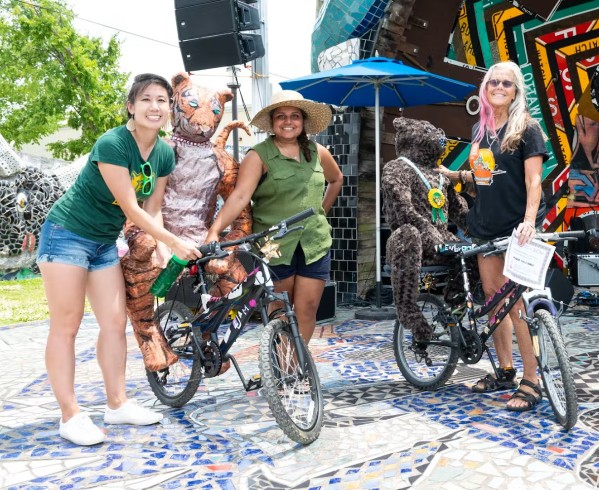 Thank you to Michael S. for inspiring us with his trip!