Inwood Recreation Project
Inwood Recreation Project
PROJECT DESCRIPTION AND HISTORY
The neighborhood of Greater Inwood lies in northwest Houston along the White Oak Bayou, just north of its confluence with Vogel Creek. The Inwood Golf Course, which is part of the neighborhood, was purchased by the City of Houston to build new storm water detention basins in partnership with the Harris County Flood Control District (HCFCD).
HCFCD received a federal grant funds to develop detention basins at Inwood for flood control purposes only. To supplement this project, Houston Parks Board, along with Asakura Robinson, a landscape design firm, was tasked by the City of Houston to incorporate a recreational component.
Initial funding for the study to include a recreational component was supported by a grant from Rebuild Texas, and the preliminary planning study can be found here.
Houston Parks Board and its partners, along with input from the community, created a plan that proposes trails, recreation, and landscaping components that complement the detention basins. This approach will bring multiple beneficial uses to flood control infrastructure.
Share your ideas here
To view the Inwood Forest Stormwater Detention project webpage on HCFCD's website, which also contains previous community meetings, click here.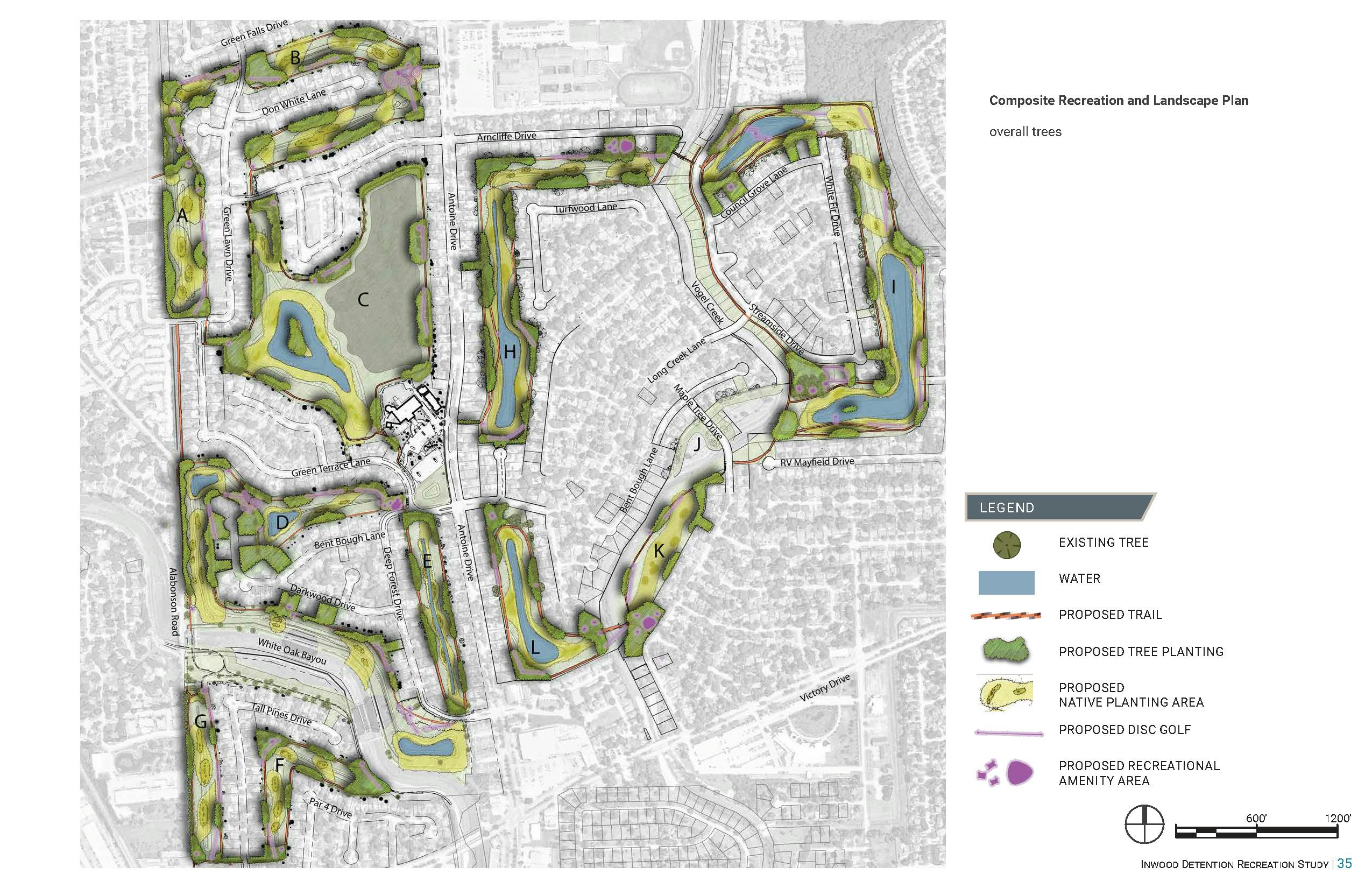 INWOOD RECREATION PHASE ONE
The City of Houston, Harris County Flood Control District (HCFCD), Harris County Precinct One, and Houston Parks Board are excited that funding is in place for the first phase of the Inwood Forest Recreation Plan. This Phase will create a 1-mile greenway with recreation elements and amenities along Vogel Creek. Phase one elements were chosen because they can be accomplished simultaneously with the detention project. Other elements from the plan are dependent on the detention project completion before they can be implemented.
OUTREACH AND COMMUNITY MEETINGS
Inwood Recreation Phase One involves community outreach to enable the project design to best respond to community needs. There are three community meetings for phase one:
August 24, 2021 - Complete
November 17, 2021 at 6:00 PM – Project update and additional feedback
Register for the virtual Zoom meeting here
Meeting will be in English and Spanish
February 2022 – date TBD – Final project update and comments
Additionally, community members can provide virtual feedback and contact the project team at any point throughout the process using the project's Social Pinpoint website. Take the survey, post your thoughts on the 'ideas wall' and pinpoint an interactive map to share your suggestions or concerns.
PREVIOUS COMMUNITY MEETINGS
On Tuesday, August 24, 2021 a virtual community meeting was held to brief the community on this project and take their feedback. Community input enables the project design team to best respond to community needs.
To view a recording of the meeting in English, click here.
To view a recording of the meeting in Spanish, click here.
It may take a few minutes for the recording to play.
To see a PDF of the PowerPoint presentation, click here.
To view the community meeting summary, click here.