PUBLISHED: January 24, 2022 By Ethan Placke, HPB Conservation Technician
QUIZ: DO YOU KNOW WHAT A WETLAND IS?
A WETLAND IS A DISTINCT ECOSYSTEM THAT IS FLOODED BY WATER, EITHER PERMANENTLY OR SEASONALLY, THAT CAN SUPPORT BOTH AQUATIC AND TERRESTRIAL SPECIES. WETLANDS, ALONG WITH FORESTS AND PRAIRIES ARE AMONG THE MOST THREATENED ECOSYSTEMS IN HOUSTON AND THROUGHOUT TEXAS. THESE SYSTEMS ARE CONSIDERED AMONG THE MOST DIVERSE SYSTEMS IN THE WORLD. BY RESTORING THESE HABITATS, HOUSTON PARKS BOARD IS PROVIDING A HAVEN FOR WILDLIFE AND HELPING OUR REGION MOVE TOWARDS A MORE PEACEFUL COEXISTENCE WITH NATURE IN AN URBAN SETTING.
The primary factor that distinguishes wetlands from landforms or water bodies is the characteristic vegetation of aquatic plants, adapted to the unique soils. The water that covers the soil in a wetland is present either at or near the surface of the soil, and the hydrology largely determines how the soil develops and the types of plant and animal communities living in and on the soil. The prolonged presence of water creates conditions that favor the growth of specially adapted plants and promote the development of characteristic wetland soils.
MEET HOUSTON'S NEWEST WETLAND
At Thomas Bell Foster Park, 12895 Greens Bayou St, Houston, TX 77015, Houston Parks Board is using an ecosystem-based approach, relying on historical habitat data, that benefits the largest amount of native wildlife by providing a highly diverse habitat. The land offers unique ecological opportunities for conservation, and restoration projects can be found throughout the park.
WETLAND SYSTEMS ARE EXCELLENT WAYS TO MITIGATE THE IMPACT OF FLOODING.
The projects at Thomas Bell Foster Park span 6.6 acres and provide ecosystem services of treating storm water and absorbing air pollutants. The plants in the park absorb air pollutants such as nitrogen dioxide, sulfur dioxide, carbon monoxide, ozone, and some particulates, reducing the impacts they have on residents' cardiovascular and respiratory systems, potentially reducing health-care costs.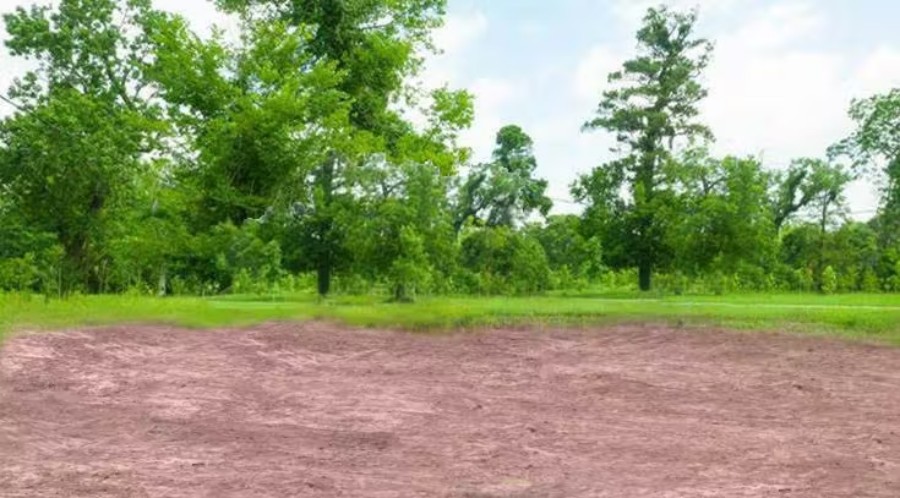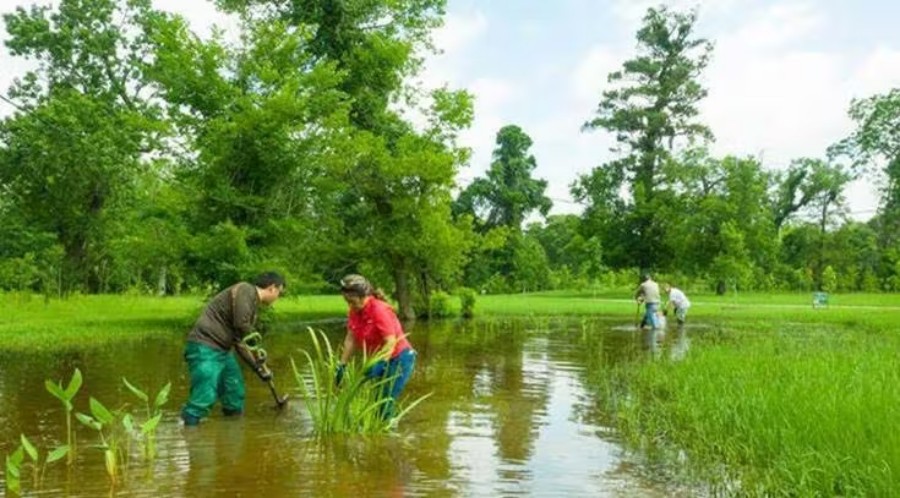 Taking advantage of the natural sloping land, Houston Parks Board created a wetland at Thomas Bell Foster Park to capture storm water and provide habitat for dragonflies and small wading birds. A small amount of excavation coupled with the removal of sod created the basin into which volunteers planted hundreds of native wetland plants. We anticipate the wetland to be fully vegetated by Fall 2022, requiring little to no additional help from our conservation staff.
The additional conservation goals for Thomas Bell Foster Park include addressing invasive species encroachment, restoring degraded habitat, planting native riparian habitats, and addressing the overall loss of diversity.
Thomas Bell Foster Conservation Project Goals:
Restore 1.57 Acres of woodland/riparian area
Plant 1.33 Acres of native landscape
Restore .75 Acres of prairie
Restore 1.06 Acres of wetlands
TO DATE, MORE THAN 2 ACRES HAVE BEEN CLEARED OF INVASIVE VEGETATION. 375 TREES HAVE BEEN PLANTED TO RESTORE RIPARIAN AND WOODLAND AREAS AND OVER 1,500 NATIVE PLANTS HAVE BEEN PLANTED FOR NATIVE LANDSCAPING. THESE PROJECTS PROVIDE AN OPPORTUNITY TO BRING PEOPLE AND NATURE TOGETHER WHILE RESTORING CRITICALLY LOST NATURAL ENVIRONMENTS AND EDUCATING THE PUBLIC ABOUT THE NEED AND IMPORTANCE OF CONSERVATION.
STOP BY THOMAS BELL FOSTER PARK
We're excited for the public to enjoy Thomas Bell Foster Park and see all the progress we've made! Stop by any time to connect with nature, explore the hiking trails, jump on a canoe, and search for butterflies, bats, newts, leopard frogs, and other interesting wildlife. Don't forget to post a photo with #ParksByYou. See you there!
Houston Parks Board creates, improves, protects, and advocates for parks for everyone. Connect with us on Twitter, Facebook, Instagram, and LinkedIn.