COMPLETED
Updated 04/11/2023
San Jacinto Bayou Greenway from Hamblen Road near Burning Tree Court to Woodland Hills Drive
In April 2023, Houston Parks Board completed construction on a 2.5 mile segment of the San Jacinto Bayou Greenway from Hamblen Road near Burning Tree Court to Woodland Hills Drive.
Notable new features of the San Jacinto Bayou Greenway include:
Trail connection for Kingwood residents at Woodland Hills Drive to access the Bayou Greenway
Connection at Woodland Hills Drive into the over 75-mile Kingwood Greenbelt trail system
New off-street trails, as well as the use of existing residential streets for the trail system
Planting of native trees, meadows, and wildflowers
14.5 acres of newly acquired land to be preserved as permanent parkland
Benches, seating areas, and overlooks
Interpretive and directional signage
Trash cans and recycling containers
A portion of the greenway goes through the former Riverview Townhomes at Forest Cove, which Harris County Flood Control District acquired and demolished utilizing a FEMA Hazard Mitigation in combination with its own funding. Hurricane Harvey severely damaged the townhomes, which made the buildings uninhabitable. Not only did this partnership bring recreational amenities to this area, but it also removed people out of harm's way from repetitive and devastating flooding.
The project cost, including design, land acquisition, and construction, was $3,535,151.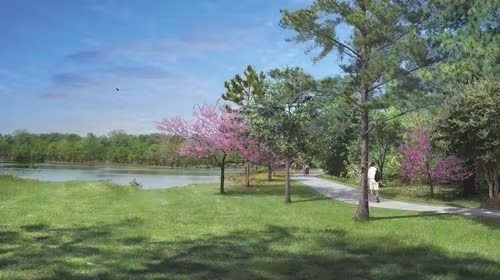 The design of the greenway along West Fork.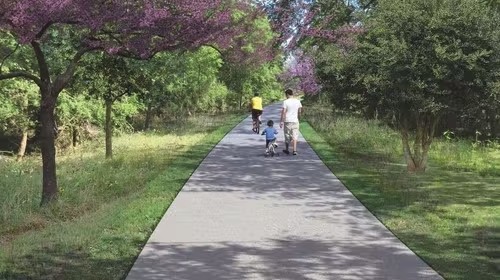 The offstreet trail design.