Beyond the Bayous Hill at Sims
Beyond the Bayous
Hill at Sims
Project Description and History
Harris County Precinct One is working to transform the Hill at Sims, a 100-acre regional detention basin, into a public park. Houston Parks Board is leading the study on behalf of Precinct One. Harris County Flood Control District owns the basin and the adjacent 150-acre property along Scott Street. Together, these properties have the potential to form a new regional park within the Sunnyside/South Acres/Crestmont Park area of Houston.
The site is adjacent to Sims Bayou Greenway, which, on completion, will stretch nearly 20 miles from Blue Ridge County Park to Milby Park. It is also within walking distance of multiple schools, parks, churches, and homes.
Precinct One and Houston Parks Board received feedback on the draft planning study, which has now been finalized and can be found at the links below. Scroll down for current project information and upcoming community outreach.
Hill at Sims Study - Executive Summary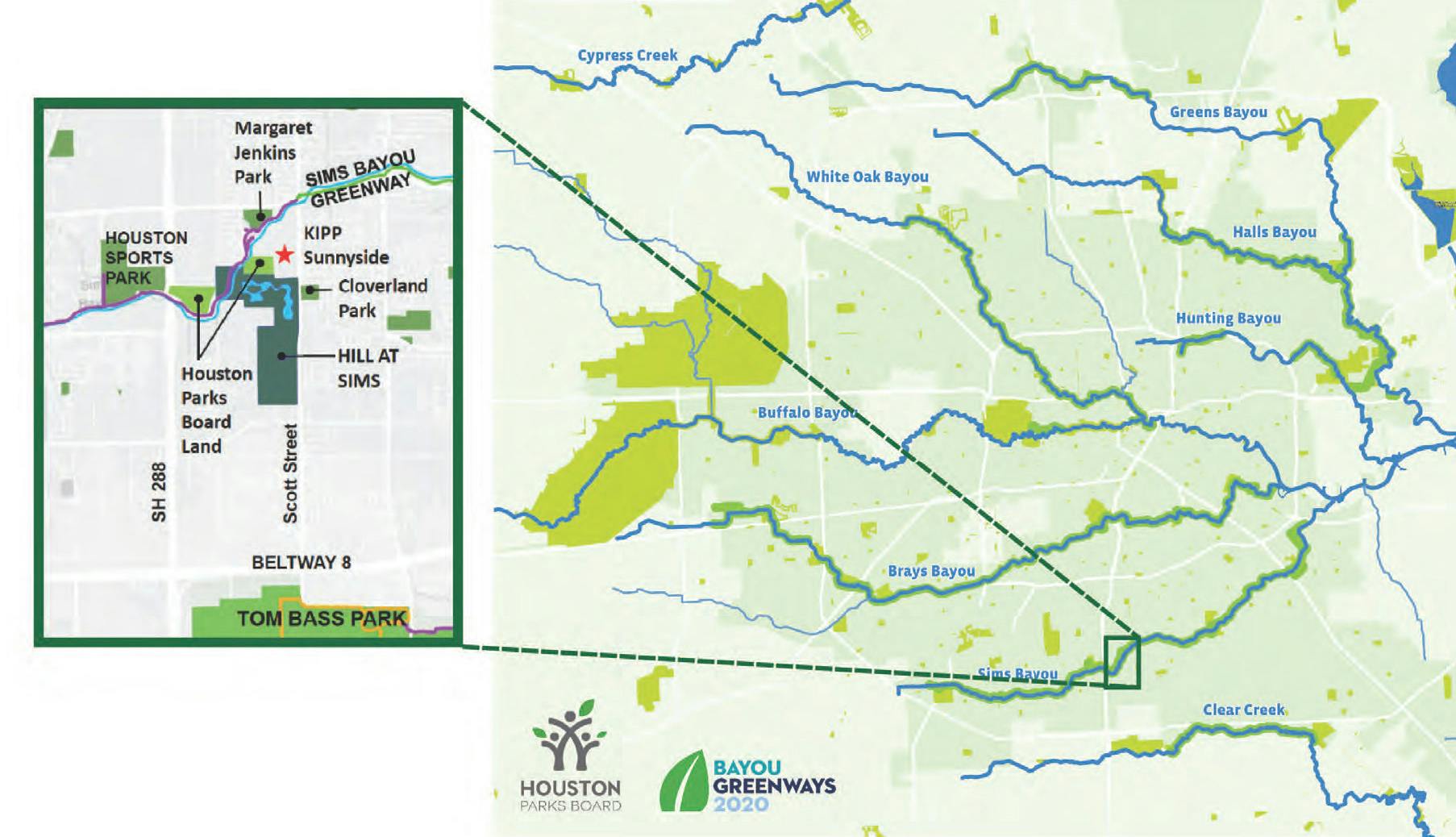 Hill at Sims Phase One
The Initial Improvements Phase, Phase One, has completed design and permitting with public input. Phase One focuses on creating enhancement around the detention basin and access to adjacent neighborhoods and destinations that can be expanded in future phases.
Improvements include a trail around the basin, entry plaza, parking lot, nature trails, plantings, site furnishings, and signage. As of July 2022, Phase One is on hold due to receiving a federal earmark.
Separate from Phase One, Precinct One is funding the design and construction of a new pedestrian and bike bride across Sims Bayou from Hill at Sims. This bridge will connect Hill at Sims Park to Sims Bayou Greenway and Margaret Jenkins Park.
Hill at Sims Phase Two
Phase Two of the project is now beginning, and features of Phase Two include:
Package A: Hilltop pavilion, trails on the Hill, overlooks, associate signage and furnishings, and ecological landscape improvements
Package B: Continuation of the trail along Scott Street from Botany Lane to Airport Boulevard (also on hold due to the above-mentioned federal earmark)
Package C: Nature center pavilion, picnic pavilions, associated site furnishings, and signage, and ecological landscape improvements
Upcoming Community Engagement
A family-friendly engagement activity at the Hill at Sims will take place in either September or October this year, check back here for updates.
Previous Community Meetings for Phase Two
On July 20, 2022, an in-person open house was held at Cloverland Church of Christ, across the street from the Hill at Sims, to update the community on the phases and ask for input on key elements of the design. A walk to the hill followed the open house in partnership with the Nature Heritage Society.
To view the presentation slides, click here.
Previous Community Meetings for Phase One
On August 5, 2021, a virtual community meeting was held to provide updates on how community feedback from the March 2021 meeting was incorporated into the project design.
To view a recording of the meeting, click here.
To view the presentation slides, click here.