challenge yourself, cycle along all of white oak trail
challenge yourself,
cycle along all of white oak trail
This one's a cycling monster—and we mean it. Get ready for a 6.5 hour, 68-mile ride.
Start your journey at White Oak Trail
Starting off at White Oak Trail, turn left onto Heights Hike and Bike Trail/Market Trail. Continue northwest and follow signs going White Oak Bayou Greenway Trail. Cruise the trail for 16 miles, then turn right onto the Jersey Village Hike and Bike Trail.
If you're feeling fatigued from all the work you just put in, take a break at Bane Park, right off of the White Oak Bayou Greenway Trail and W Little York Road.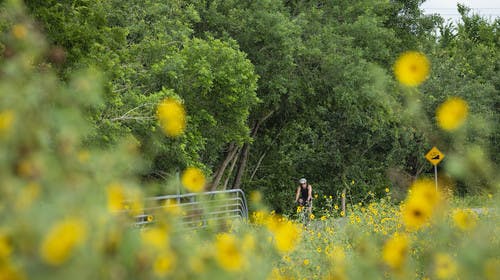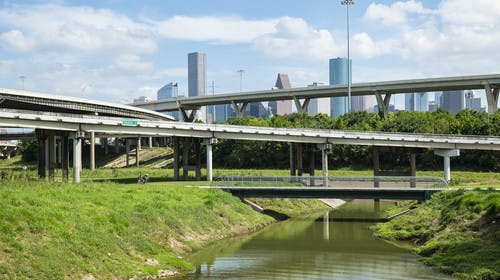 Continue for 10 miles and explore Houston parks
Head south on Jersey Village Hike and Bike Trail toward W Gulf Bank Road. Continuing on the trail, ride along TX-8 Beltway S/West Sam Houston Pkwy N until you approach Clay Road. Turn right on Clay Road for 4 miles, and enjoy the view along Bear Creek Pioneers Park. Follow the trail onto Patterson Rd and make a left on Highway 6—you've made it to Addicks Park!
You heard right—two Hike and Bikes in one trip
Follow signs for Park Row and Terry Hershey Ext. Stay right onto Terry Hershey Ext, and continue right onto Buffalo Bayou Bike Trail. Passing up Terry Hershey Park, this will take you all the way to the Terry Hershey Park Hike and Bike Trail off of TX-8 Beltway.
Explore Houston's neighborhoods
Continue on the trail, and head southeast—passing Briarforest and Westchase—and head towards S Kirkwood Rd in Alief. After 3 miles on S Kirkwood, make a U-turn right before W Bellfort Avenue—if you go past W Bellfort Avenue, you've gone too far.
Keep cycling—you're almost done!
Make a first right at Keegans Bayou Trail, and ride along Keegans Bayou for 12 miles. Keegans Bayou will turn into Brays Bayou Greenway Trail, so continue straight, and ride along the Brays Bayou for 4 miles until you get to Columbia Tap Rail-Trail.
Keep a look-out for the Brays Bayou Pocket Prairie to see local native habitats and plants!
The Grand Finale
Make a left onto the Columbia Tap Rail-Trail, and continue until it turns into White Oak Bayou Greenway Trail. From there, you'll be back to where you started—White Oak Trail.
PS. Congrats! Give yourself a pat on the back. A golden star. You've completed a 68-mile cycle. Your FitBit probably needs some charging.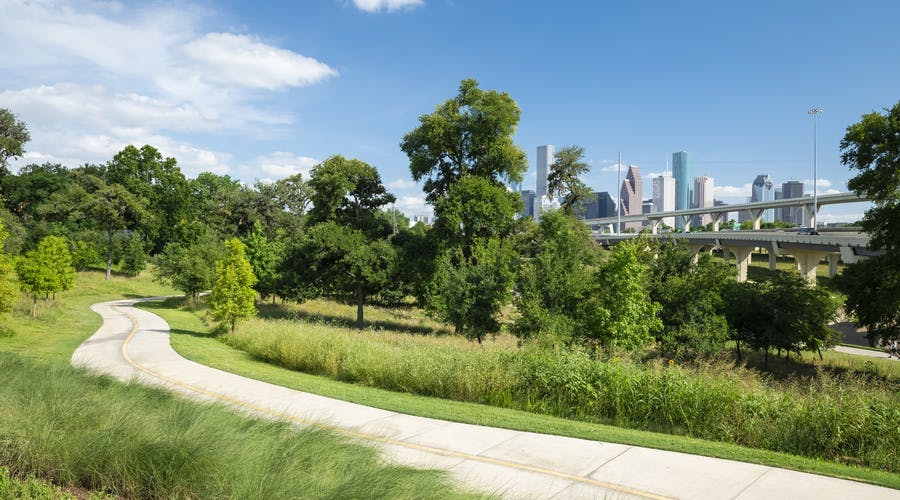 Thank you to Michael S. for inspiring us with his trip!



About #ParksByYou Trips
Houston Parks Board is sharing how Houstonians have made this city—and their parks—all their own. With your help, we're building a digital map of bayou experiences—through the eyes and experiences of Houstonians. We're showcasing your trips and sharing them on our website for others to read, share, and act on.
This effort is in celebration of Bayou Greenways 2020 which is bringing together neighborhoods like never before—connecting 150 miles of trails and 3,000 acres of green space. Houston Parks Board is proud to share the experiences of individuals in neighborhoods across our city. These are #ParksByYou. 
Recommend a #ParksByYou Trip