PAST: Sims Bayou Greenway Ribbon Cutting
Saturday, June 8, 2019
|
4574 Simsbrook Dr, Houston, TX, 77045
PAST: Sims Bayou Greenway Ribbon Cutting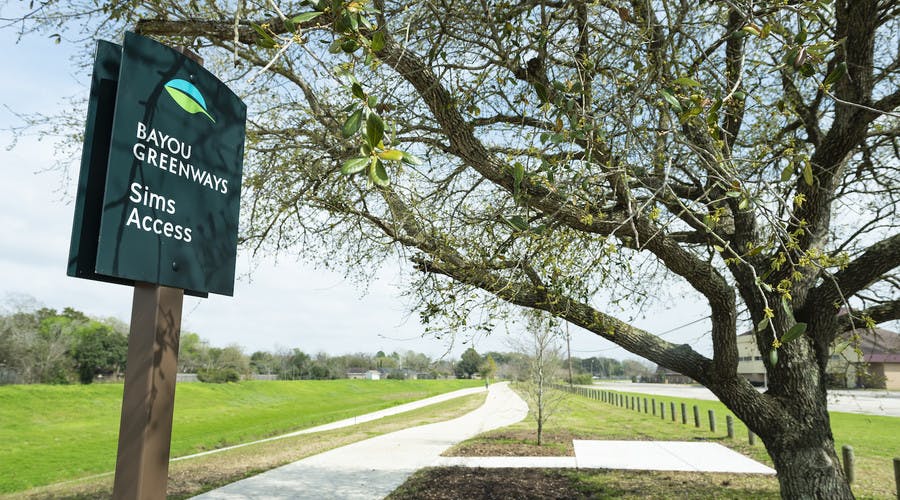 Houston Parks Board, Houston Parks and Recreation Department, and CenterPoint Energy are pleased to mark the completion of its first recreational trail along a CenterPoint Energy easement in Houston. The 1.5-mile hike-and-bike trail runs north of Sims Bayou Greenway, providing important connections to the communities living in this area. Houston Parks Board has also completed a 2.58-mile segment of Sims Bayou Greenway as part of Bayou Greenways 2020. Both milestone moments will be celebrated at the grand opening and ribbon cutting event slated for Saturday, June 8.
 The new trail along CenterPoint Energy easement runs roughly parallel to Hiram Clarke Road in southwest Houston, north of Sims Bayou Greenway to West Airport. An agreement between CenterPoint Energy and the City of Houston, approved in 2014 by Houston City Council, allows recreational trails on CenterPoint Energy rights-of-way and paved the way for the trail project as one of the first Beyond the Bayous connections, an initiative of Houston Parks Board to advance the development of park and greenway systems throughout Houston. Houston Parks Board managed the design and construction of the trail.
As part of Bayou Greenways 2020, a 2.58 mile segment along Sims Bayou Greenway from Heatherbrook Drive to Buffalo Speedway is also complete, connecting into the recently completed trail that runs west toward Blue Ridge County Park. This newly paved 10-foot-wide trail replaced an existing asphalt trail and includes adjacent directional and educational signage, trash and recycling bins, benches, ornamental design features, landscaping and more. There is a new trailhead entrance at S. Post Oak Blvd as well as other neighborhood trail connections. The trail cost $5.1 million and the construction contractor was Times Construction. 
Houston Parks Board and its partners will celebrate both completions at a grand opening event on Saturday, June 8 from 11:00 a.m. – 1:00 p.m. Event activities include life-size yard games from Nature & Eclectic Outdoors, e-bikes provided by Bike Barn, a scavenger hunt, free face painting, a food truck, sidewalk activities, free snow cones and popcorn, and so much more! The event will conclude with a ribbon cutting ceremony at noon.