Thursday, June 9, 2022
|
Arthur Storey Park, 7400 W Sam Houston Pkwy S, Houston, TX 77036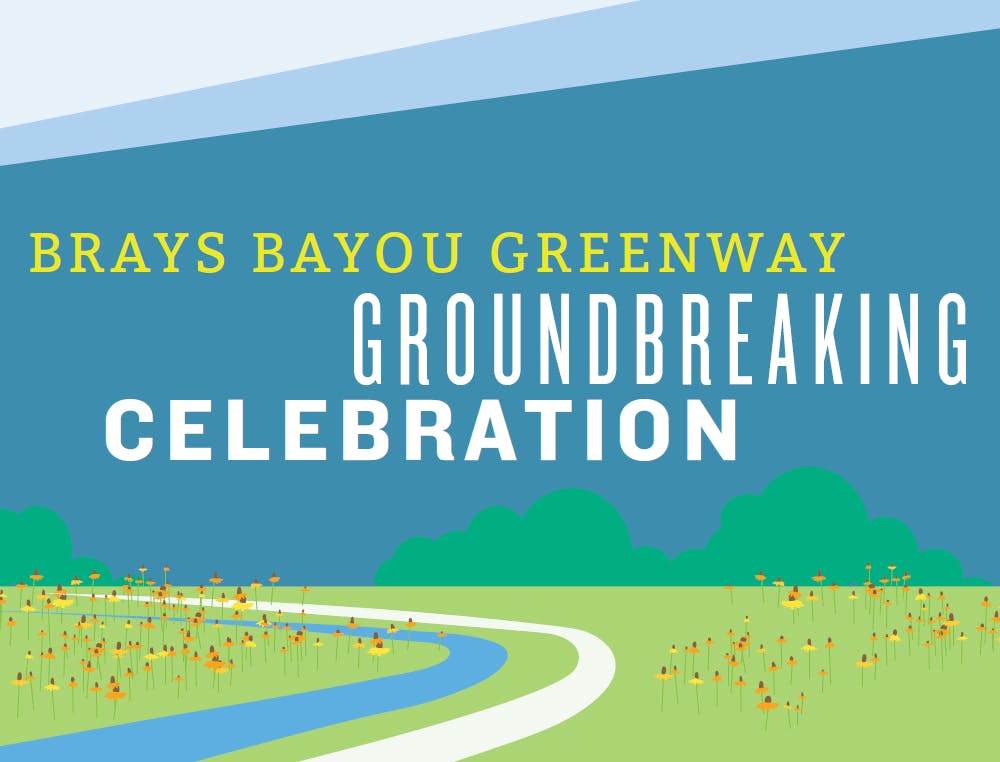 June 9, 2022 | 9:00 AM to 11:00 AM | Arthur Storey Park, 7400 W Sam Houston Pkwy S, Houston, TX 77036
Join us to celebrate the groundbreaking of the newest Brays Bayou Greenway trail segment!
Houston Parks Board, Houston Parks and Recreation Department, and other key project partners are excited to celebrate the start of construction on a new 7.67-mile segment of Brays Bayou Greenway. Connecting Braeburn Glen Boulevard and Eldridge Parkway, more than 47 miles of Brays Bayou Greenway will be available for public use once construction is complete, making Brays the longest Bayou Greenway built to date.
The new greenway segment begins on the north side of Brays Bayou at Braeburn Glen Park before crossing a new 12-foot-wide hike-and-bike bridge parallel to Highway 59. The greenway will then cross under Highway 59 and continue along the bayou's south side to Beltway 8. After passing under Beltway 8, the greenway will link into the existing trail network in Harris County Precinct 3's Art Storey Park.
From Art Storey Park, the greenway will connect into existing Westchase Management District trail and continue on the bayou's north side until reaching Mike Driscoll Park. There, the greenway will traverse to the south side of the bayou until reaching existing trail network within Archbishop Fiorenza Park at Eldridge Parkway.
Notable new features of Brays Bayou Greenway include:
Connection into Braeburn Glen Park and three Harris County Precinct 3 parks: Art Storey Park, Mike Driscoll Park, and Archbishop Fiorenza Park
Street-level connections to Braeburn Glen Boulevard, Boone Road, Belle Park Drive, High Star Drive, S. Dairy Ashford Road, and Synott Road
A trail connection to the Club Creek Detention Basin trails and new Club Creek Park, funded and built by the Southwest Redevelopment Authority/TIRZ 20
Five acres of newly acquired greenspace, including 1.46 acres adjacent to Wilcrest Drive and 3.6 acres adjacent to Ashford Point Drive
Safety lights under Highway 59
Native trees, procured from Trees for Houston
Interpretive and directional signage
Benches, trash cans, and recycling containers
Construction is expected to conclude in the fall of 2023. Residents should be mindful of the active construction sites along Brays Bayou as well as all intersections and connecting streets. Pedestrians and cyclists should not enter areas surrounded by orange construction fencing.
Following construction, Houston Parks Board will continue ongoing maintenance of Brays Bayou Greenway, which includes weekly trash pickup, bi-weekly mowing of grass along the concrete trail, upkeep of the trail and amenities, and any necessary flood cleanup.