Sunday, May 2, 2021
|
Sims Bayou Greenway, Confluence, and your home!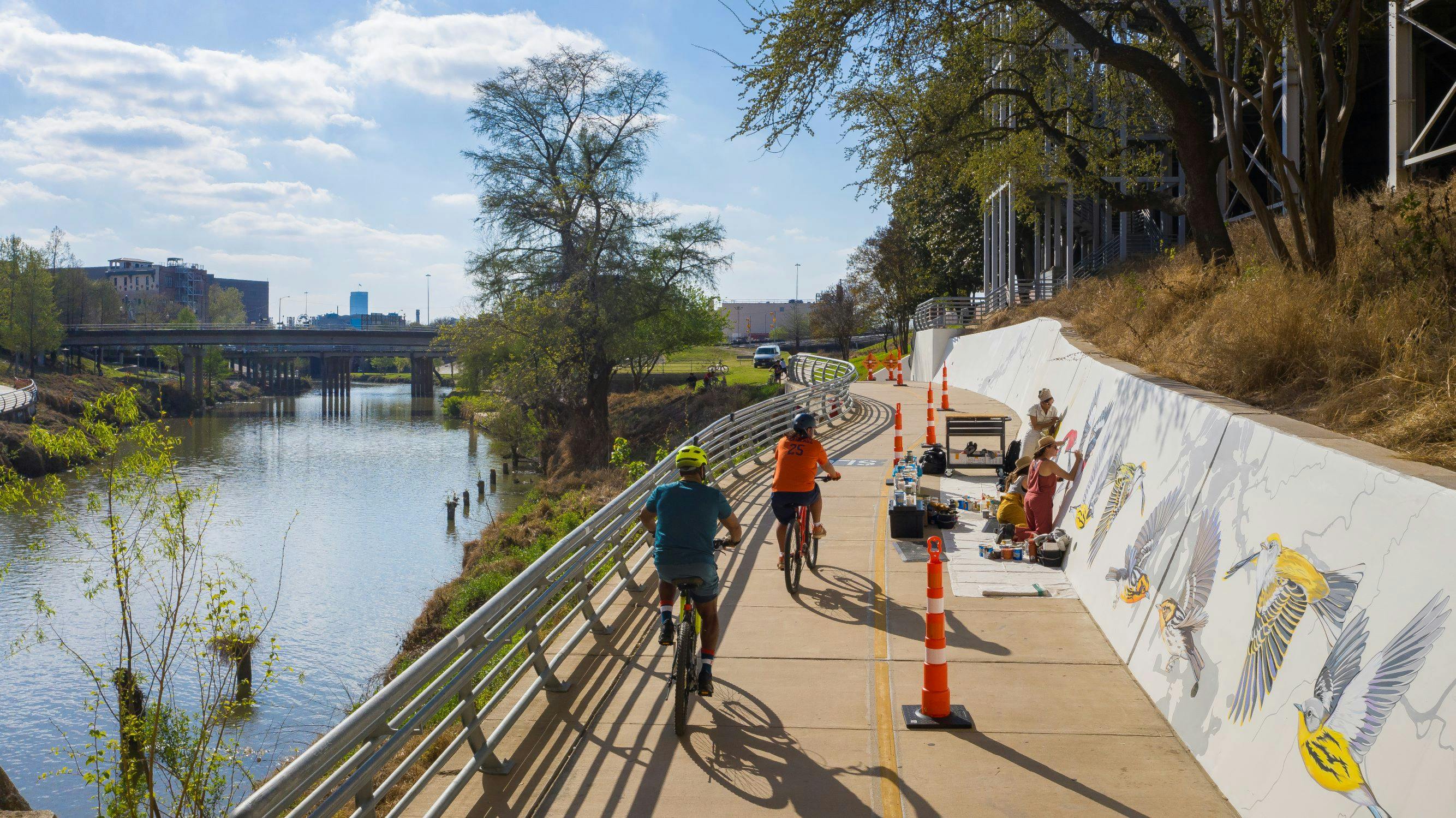 ONGOING
Are you ready, Agent? Visit all three of Houston Parks Board's Agents of Discovery missions and discover nature nearby! We currently have missions live at Confluence, the newest Bayou Greenways mural created by Ink Dwell studios, and on Sims Bayou Greenway at South Post Oak Rd and Simsbrook Drive. Download the FREE app onto your smart device, select a mission near you on the app, and walk along the mission's trail to unlock and complete challenges along the way.
Please follow all local health advisories and CDC social distancing guidelines when completing these missions.
The Sims Bayou Greenway Mission is located at the corner of South Post Oak Rd and Simsbrook Drive. You'll find a small parking lot there located on the northeast side of the S Post Oak Rd bridge over Sims Bayou. Begin your mission to explore this parklet and learn about the critters you might see in the spring! The METRO bus route 49 follows S Post Oak Rd and stop #79 at Heatherbrook Drive is just across the street from the mission.
There are two ways to explore Confluence:
The Confluence mural mission is located at the convergence of White Oak and Buffalo Bayous near Johnny Goyen Park downtown. To play, download the app, visit the mural, and select the "Confluence Mural Mission." Johnny Goyen Park is located at 1 Milam St., Houston, TX 77002. On-street, metered parking and several off-street lots are available during the day downtown. You can park up to 3 hours and after that, you need to move your car. Meters are FREE after 6 pm Monday-Saturday and all day Sunday. Pay-by-phone and search for spots on Parkmobile. The METRO bus route 85 follows Washington Ave, with stop #9206 at Congress just a quick walk away. The red train has an exit at UH-Downtown, which overlooks Johnny Goyen Park and Confluence.
The Confluence at home mission can be played anywhere! To get started, download the app, select "Confluence at Home," and scan the images below when prompted to unlock each of the challenges. Print the bird images below and place them around your backyard or home to get a taste of bird watching! No printer? You can scan the images directly from this webpage or download them here. Unlock your challenges to start learning about our local birds and the visiting birds who migrate through Houston.