Friday, April 8, 2022
|
11623 Lafferty Oaks St., Houston, TX 77013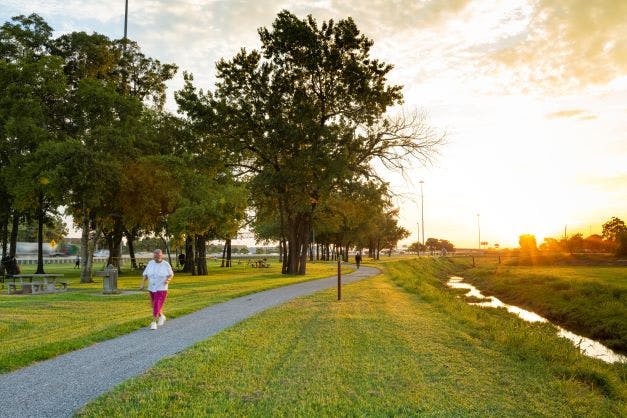 Herman Brown Park
February 4 - April 8
Are you ready, Agent?
Download the FREE Agents of Discovery app and get ready to explore a new Bayou Greenways connection!
On this mission, you'll discover the nature trail connection at Autumnwood Drive Gateway to Herman Brown Park.  You will discover the 2.2 mile trail which is a great way to get away from the hustle and bustle of busy streets and partake of the serene pleasures of nature.
A paved surface will connect you to the Autumnwood Drive Gateway and into Herman Brown Park.  Players will discover the purpose of wetlands and why native plants are so important to this area. You'll also get a chance to see the soccer fields and fishing pond.
Park at 11623 Lafferty Oaks St., Houston, TX 77013 and park along the street. Please be courteous to neighbors by not parking directly in front of a home.  You may access the trail, turn to the left, and follow the Bayou Greenway towards Herman Brown Park.  It is accessible by bike or by foot and will take you along the Hunting Bayou Greenway and back for a 1 to 2 mile walk.
Please follow all local health advisories and CDC social distancing guidelines when completing this mission.