From Vacant to Verdant
Blight along White Oak Bayou Greenway transformed into serene public greenspace
In July 2016, Houston Parks Board was honored to be a part of a community celebration with Mayor Sylvester Turner, Council Member Brenda Stardig, District A, the Houston Parks and Recreation Department and the Houston Housing and Community Development Department to demolish an abandoned apartment complex along White Oak Bayou Greenway. The long-abandoned complex had been a hotbed for crime and an eyesore for nearby residents and for White Oak Bayou Greenway trail users. Funds to acquire the property and demolish the apartments came from HPARD, District A Council Member Stardig and COH Housing and Community Development Department. Houston Parks Board contributed $400,000 to the effort.
As a newly revealed greenspace emerged from the demolition, Houston Parks Board saw an opportunity for improvements that go beyond standard meadow grasses. We wanted to offer unique amenities to the surrounding community, and as a result, took the initiative to find the resources to enhance the greenspace and provide access to White Oak Bayou Greenway.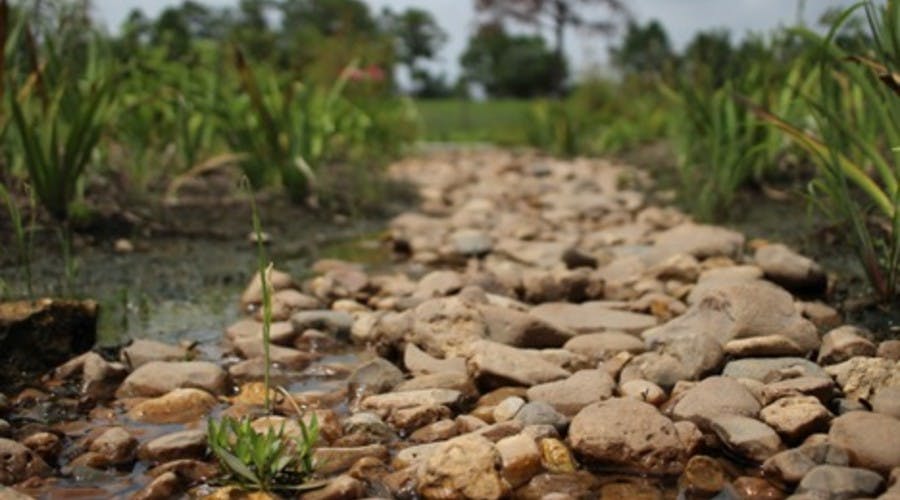 A beautiful bioswale was created on the site, which will help filter and clean runoff water.
This project is part of a responsible land conservation effort and incorporates natural features, including native vegetation and a bioswale. The land will be maintained and protected forever, and trail users and nearby residents have a beautiful new amenity to enjoy for generations. 
"This is a great example of what can be achieved when we collaborate closely with partners to achieve a common goal." - Beth White, Houston Parks Board President and CEO.